LATEST BRIEF RESUME OF AALIYAH YOONG HANIFAH, BORN 2003 AND HER PHOTOS & VIDEOS
2012 MALAYSIAN INTERNATIONAL WATERSKI & WAKEBOARD: RESULTS
2012 MALAYSIAN INTERNATIONAL WATERSKI & WAKEBOARD - 09-11 NOVEMBER
Sixteen (16)  events in Slalom, Tricks, Jump & Wakeboard all with prize monies and medals to be held in the superb site at Putrajaya's Presint 6 Water Sports Complex.
The official hotel, Pull Putrajaya, is right by the start docks.
Entry closes on Monday, 29 October 2012 or when maximum 6 entries for each event is reached. Please send in your entries and hotel booking forms early to avoid disappointment.
WATERSKI & WAKEBOARD 2013 NEW RATES
THE STAR - PHILLIPA YOONG - SPLASHING TIME
NAUTIQUE CONTINUES LONG-TERM PARTNERSHIP WITH MOOMBA MASTERS
ORLANDO, FLA – As part of its continued support for the growth of towed globally. Nautique announced today they have extended their agreement with the Victorian Water Ski Association (VWSA) to be the exclusive official towboat of the Moomba Masters through 2017.
Three-event competitors will ski exclusively behind the record breaking Ski Nautique 200 known for creating superior wakes and has towed athletes to twelve world records along with numerous personal bests since its inception.
Recently named the most innovative product in our industry by the Watersports Industry Association (WSIA), the game-changing Super Air Nautique G23 will pull the wakeboard competitors for the first time on the Yarra River this March. The G23 delivers an experience that surpasses every wake boat in the marketplace and is the boat of choice for professional athletes around the world.
"To have great partners in business like Nautique Boats is a huge contributing factor to success and the reason why Moomba Masters is the largest water ski and wakeboard event in the world," commented Victorian Water Ski Association President and Moomba Masters Tournament Director Darren Robertson.
"We are thrilled to have the opportunity to continue our honored partnership with the VWSA, a great organisation. Moomba Masters and Nautique share a similar synergy, provide the world's best ski and wake boats for the world's largest water ski and wakeboard event," stated Nautique President/CEO Bill Yeargin. "Moomba presents an ideal opportunity for millions of people to learn about the watersports industry while creating new interest each year," Yeargin added.
The Moomba Masters has more than a million spectators annually witness the prestigious event during the fourday Moomba Festival in downtown Melbourne, on the majestic Yarra River. The Moomba Masters invitational is held annually, and runs from March 6-11, 2013. For more information on the Moomba Masters event, please visit Moomba Masters
Celebrating 88 years of excellence in the marine industry, Correct Craft is the producer of Nautique boats and the owner of Orlando Watersports Complex (through its subsidiary Aktion Parks). Correct Craft is known for delivering the highes quality product, innovative technology and exceptional customer service experiences. To get more information on the company or see the complete line of Nautique boats, visit www.nautique.com
NEXUS INTERNATIONAL SCHOOL, PUTRAJAYA SUPPORTS WATERSKI PRODIGY AALIYAH YOONG WITH SCHOLARSHIP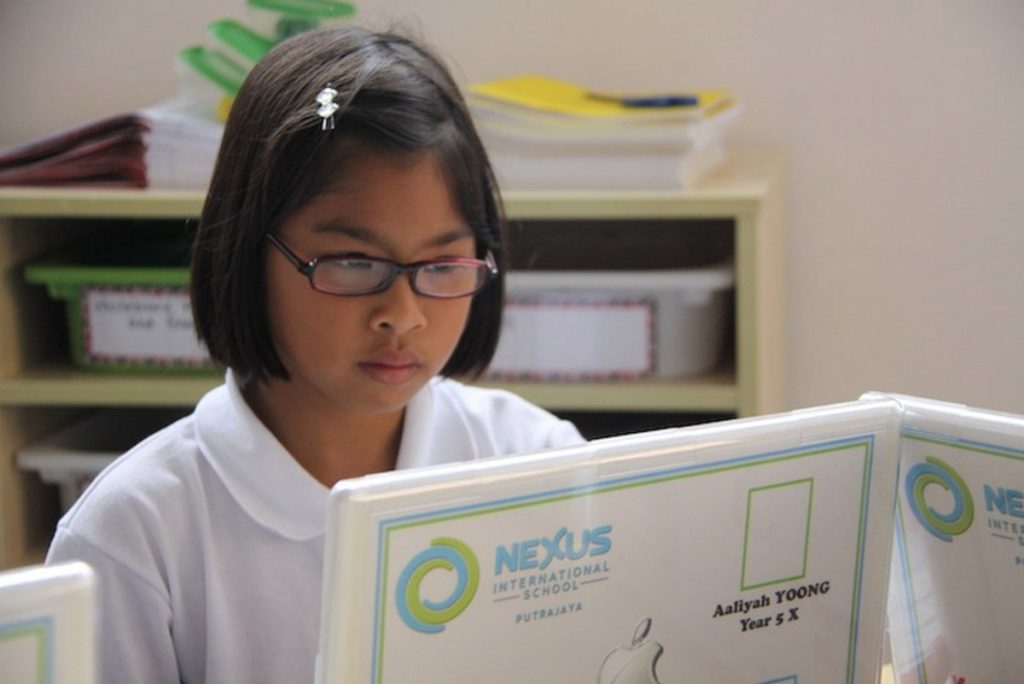 Malaysia's youngest ever SEA Games waterski gold medallist, Aaliyah Yoong Hanifah is over the moon after attending her first day at Putrajaya's Nexus International School this morning.
Her switch from Sekolah Kebangsaan Bandar Seri Putra was made possible when Nexus International School, Putrajaya confirmed her scholarship award after having assessed her academically 3 weeks ago and after considering her future potential to become a role model for the young children of Malaysia.
The nine-year-old waterski prodigy became the youngest ever gold medal wniner in the history of the SEA Games when she won the open women waterski tricks event in Palembang in 2011 when she was only y-years-old.
Supported by Putrajaya Corporation (PJC), The Malaysian Water Ski Federation (MWWF) operates the National Waterski & Wakeboard Training Centre in Putrajaya along with Waterski & Wakeboard World Cup Sdn Bhd (WWWC). They welcome the news of Nexus' support warmly.
MWWF's committee member for development, Ahmad Azuddin Arshad said, "This support is very significant as it will alow Malaysia's best hope of a future waterski world champion the chance to train twice a day 7 days a week throughout the year due to the proximity of Nexus International School to our training site."
"Since Aaliyah's sensational result in the SEA Games last November, she has progressed even more within the last 10 months. She has just returned a week ago from the IWWF Asian Championship after winning the under 17 gold medal and the open women bronze medal which means she is now ranked 3rd in Asia amongst the open women category and well on the way to become the Asian cmapion in open women tricks title probably before she is 11," added Azuddin.
In Aaliyah's 10-year plan formulated by the MWWF in 2009, she is targeted to become Malaysia's first ever waterski world champion by 2019 when she turns 16.
Aaliyah's father Hanifah Yoong who is also her personal coach remarked that the Nexus International School's unique method of teaching revolves around embracing diversity and challenging minds, which will add positively towards Aaliyah's quest to succeed in the sport she has chosen. "She has to be prepared to interact with internationally diverse people while the mental challenge that Nexus will provide is complementary to her physical challenge," said Hanifah.
"Our family is grteful for this opportunity given by Nexus. Aaliyah is really appreciative that the sport she has chosen has already brought in rewards as she continues to excel in it. This further motivates her to pursue academic excellence alongside sporting excellence," added Hanifah.
YOONG SISTERS PHILLIPA & AALIYAH WIN GOLDS IN ASIAN WATERSKI CHAMPIONSHIPS IN KOREA
Chuncheon, Korea – Malaysia's waterski team siblings Phillipa Yoong & Aaliyah Yoong Hanifah each won a gold medal in the IWWF Asian Waterski Championship just concluded in Chuncheon in Korea today.
Phillipa Yoong, won the open women slalom event when she cleared 0.5 buoy at 58kph and 13m line. She defeated early round 1 leaders Saaya Hirosawa of Japan who could only finish 3rd behind Korea's Yoo Ji-Young.
The 34-year-old mother of 2 daughters who only came out of retirement 2 years ago to help Malaysia's waterski win 4 golds in the 2011 SEA Games thus retained her 2011 Asian title which is a rare achievement.
Younger sister Aaliyah Yoong Hanifah, 9, won gold in the Asian U17 girls tricks with a new Asian U17 record of 3,230 points.
But to Aaliyah, her more valuable achievement in this championship is the bronze medal she won in the Asian open women tricks event where she again smashed her own Malaysian record with a score of 4,220 points thus breaking the psychology 4,000 points barrier.
The third member of the Malaysian team Alex Yoong recorded near personal best results in men slalom and men jump which played a crucial part to help Malaysia improve their team position from 5th in the 2010 Asian Championship to 4th in this year's championship behind Japan, Korea and China.
The 3-member Malaysian team's participation in the 2012 IWWF Waterski Championship in Chuncheon, Korea was made possible with support from Majlis Sukan Negara, Olympic Council of Malaysia, Perbadanan Putrajaya and Waterski & Wakeboard World Cup Sdn Bhd
AALIYAH YOONG SMASHES NATIONAL WOMEN TRICKS RECORD IN FRANCE
Malaysia's Aaliyah Yoong Hanifah created waves in the Coup De Meuzac held last weekend in Meuzac, France.
She scored 3,630 points in Round 2 and 3,510 points in the finals and in the process smashed her own Malaysian record of 3,230 points set by her last year in Malaysia.
She finished first in the Under 14 Girls Tricks category and it was a creditable finish as she is only turning 9 next week on the 16th of July.
"This is a great way to celebrate my birthday," said Aaliyah who is on a two event tour of France.
She will be competing against world's top skiers in the likes of world champion and world record holder Clementine Lucine, World Cup champion Iris Cambray and a host of world ranked skiers from Europe.
"I was very disturbed and tensed in Round 1 when I only scored 2,430 points as the water was very cold and it was drizzling. But I was relaxed for Round 2 after my coach and father, Hanifah Yoong, made me do a full hour of warm up before the event," added Aaliyah.
Aaliyah's second event this coming weekend was supposed to be at Roquebrune near Cote de Azur in southern France but this event has been cancelled due to lake algae problems.
She now moves on to her second world ranking list event in Orthez, near the city of Pau in southern wesstern France where she will participate in the Memorial Michel Naudinat Ch Lique Aqu scheduled for the 24th and 25th of July.
"The purpose of Aaliyah participating in Europe is to gain her additional valuable international competition experience as well as to compete with the world class skiers in her age groups and world ranking skiers," said Hanifah.
"There are simply not enough world ranking waterski events in Asia to keep her toned for important continental competitions since training all year round can be quite boring," explained Hanifah.
The two weeks training and competition stint in France was made possible through Malaysia Airlines sponsoring the air tickets with partial funding from the National Sports Council of Malaysia and Putrajaya Corporation.
AALIYAH YOONG COMPETES AND TRAINS IN FRANCE FOR INTERNATIONAL EXPOSURE
Malaysia's youngest ever SEA Games gold medal winner, Aaliyah Yoong Hanifah, who turns nine this month, is stepping up on her international competitions schedule by competing in France in two championships this month.
She will compete in the Coup De Meuzac in Meuzac, France this weekend (July 7-8) and the Wake & Gliss Passion Waterski Festival in Roquebrune in Southern France on the 14-15 July 2012.
Aaliyah departed last night (Monday) via Malaysia Airlines for Paris and accompanied by her father Hanifah Yoong, who is also her coach.
"Aaliyah has now reached a level where one or two international events a year is inadequate in her development towards an international waterski career. She needs at least 5 international competitions a year in order to progress up the world rankings," said Hanifah.
"She is presently on track to be Malaysia's first ever Asian Open women trick champion before she turns 11 in 2014 and will be in the Singapore SEA Games to defend her women tricks crown in 2015," Hanifah added.
While in France to compete in the two world ranking events, Aaliyah has also been invited to train with the French national skiers for five days.
The two weeks training and competition stint in France was made possible through Malaysian Airlines sponsoring the air tickets with partial funding from the National Sports Council of Malaysia and Putrajaya Corporation.
2012 ASIAN BEACH GAMES: HAIYANG, CHINA - PHOTOS
2012 ASIAN BEACH GAMES: HAIYANG, CHINA - RESULTS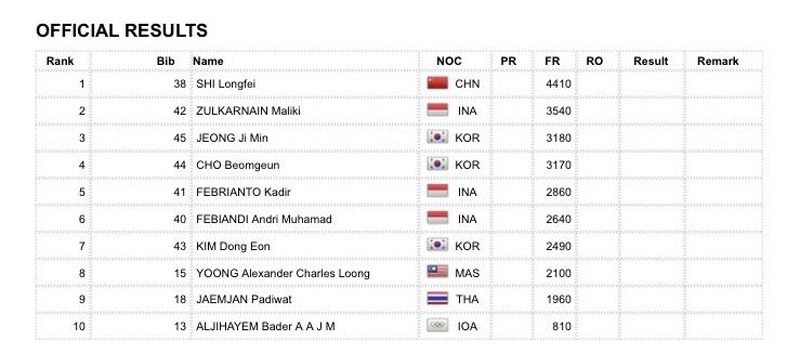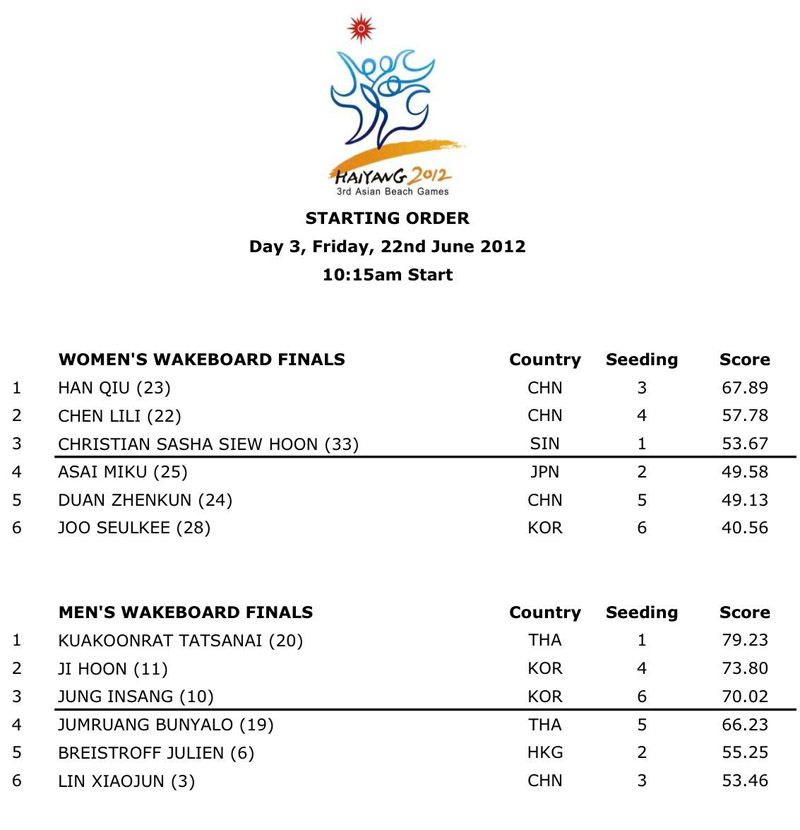 Wakeboard Finals Men & Women
3RD OCA ASIAN BEACH GAMES: HAIYANG, CHINA 18-23 JUNE 2012
Wakeboard started yesterday 20 June. Zahhar, Zaim & Rin didn't get into the semi finals but have the LCQs this morning for another chance to qualify for the semi finals.
Tricks start today 21 June which will see Aaliyah & Alex participating in the preliminary rounds.
WATERSKI MAGAZINE - PUTRAJAYA SITE TO SKI
PHILLIPA PUTS ON VINTAGE SHOW TO BE SOLE RECORD BREAKER
Phillipa Yoong put on a vintage performance to be the only record breaker at the Malaysian Waterski and Wakeboard Championships in Putrajaya's Water Sports Complex over the weekend.
The scored two buoys with a 13m line of 55kph to eclipse her own national records, of four buoys with a 14.25m line at 55kph, set last year at the Malaysian Championships.
Phillipa, a mother of two girls and the 2011 SEA Games slalom gold medalist, faced stiff competition from Singapore's Sasha Christian and Kalya Kee, who finished second and third respecively.
Malaysia's other SEA Games gold medalist Aaliyah Yoong, who will be nine in July, could only manage silver in the open tricks. The gold went to Indonesian veteran Tsurayya Priambodo after Aaliyah suffered an uncharacteristic fall in her first pass.
Aaliyah lost to Tsurayya by a mere 40 points with a score of 2,140 points. Nur Alimah Priambodo, the younger sister of Tsurayya finished third.
The men's open slalom gold went to Jamo DeLacy of New Zealand while Indonesia's Febrianto Kadir came out tops in the open tricks.
Sasha Christian won gold in the women's open wakeboard while Alex Hanif of Indonesia emerged winner in the men's category.
Zahidi Putu of Indonesia won the men's open jump. A total of 68 competitors from eight countries took part this year.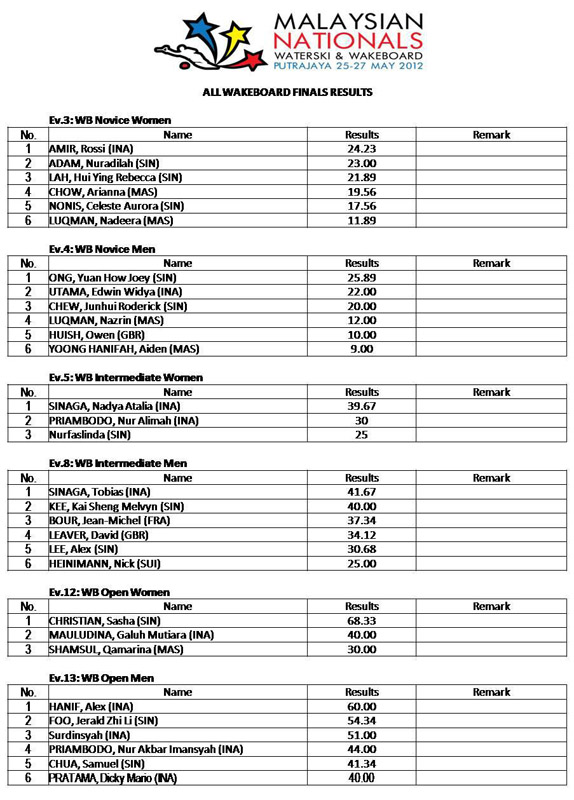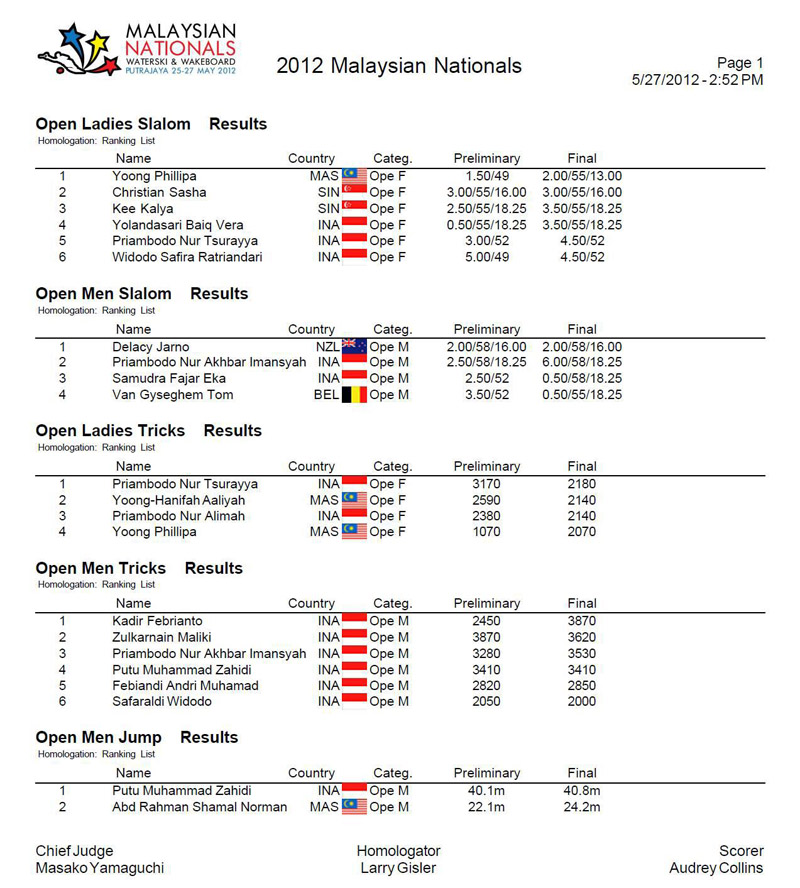 2012 MALAYSIAN NATIONALS WATERSKI & WAKEBOARD ENTRIES & SCHEDULE
MWWF SUPPORTS 4 MORE YOUNG WATERSKI TRAINEES IN THEIR 10 YEAR PLAN
The Malaysian Waterski & Wakeboard Federation (MWWF) today announced four more young waterskiers have been inducted into their ambitious 10-year-plan to make Malaysian world class skiers before 2020.
The four new young Malaysian trainees are Arianna Chow age 11, Nadeera Luqman Nor, age 9, Nazrin Luqman Nor, age 7 and Aiden Yoong Hanifah, age 7.
They have been training in the Putrajaya national waterski center 3 days a week since January this year and will make their debut in their first ever waterski & wakeboard competition in the Malaysian National Championships end of this month.
The Malaysian Nationals is scheduled as part of the Ministry of Youth & Sports Malaysia's Water Sports Carnival from the 25th to 27th May 2012.
Arianna Chow who goes to school in the Alice Smith School in Kuala Lumpur is now in year 6 while Nadeera is from the SK Bandar Seri Putra and is presently in year 3 and is a good friend of Aaliyah. Both Nazrin and Aiden are classmates in year 1 from SK Bandar Seri Putra.
The 10-year-development plan launched by MWWF in January 2009 had already seen some results of the efforts put in by the MWWF through Aaliyah Yoong Hanifah, now age 9, who surprised the waterski world with a sensational gold medal in oepn women tricks in last year's SEA Games held in Palembang, Indonesia.
MWWF's Vice President, Phillipa Yoong said, "The fine performances in the 4 gold medals which our national waterski team brought back from last year's SEA Games have definitely resulted in increased interest from parents and we are getting enquiries alsmost on a weekly basis on how to start waterskiing from all over the country."
"These four new trainees were selected from more tan 20 young skiers who participate in their schools co-curriculum programme with the MWWF at the Putrajaya National Waterski Training Centre at the Maritime Centre in Presint 5," she added.
MALAYSIAN NATIONALS ( WATERSKI & WAKEBOARD) 25-27 MAY 2012 PUTRAJAYA
Further to our notification of our Malaysian National Championships to be held in Putrajaya from 25-27 May 2012. Here are the following for your kind urgent action:
1.0   Event Bulletin
2.0    Entry Form
The event is part of our Malaysian Ministry of Youth & Sports organised "Water Sports Carnival" and run at separate time segments with kayaks, rowing & dragon boats for the weekend.
Please note that the entries from overseas competitors are by invitation only which means not all entries are automatically accepted as we need to distribute available slots to Indonesia, Singapore, Thailand, Philippines and other countries who want to participate.
We will look at the events entered by you and accept accordingly. Therefore we shall be grateful for your earlier notifications of entries to us. Email entries to hanifah@waterski.com.my
To all riders and skiers who are not competing, please kindly note that our ski site operations will close for bookings from the 24 to the 27th of May 2012.
RARE CHANCE FOR AALIYAH TO LEARN FROM WORLD CHAMPION MENTOR CLEMENTINE LUCINE
Malaysia's 8-year-old child protege waterskier, Aaliyah Yoong Hanifah, has her chance of a lifetime to learn from multiple world champion Clementine Lucine who is currently in Putrajaya for her pre-season winter training ahead of two major events in March.
Clementine who hails from France also holds the women tricks world record of 10,040 points to become the first woman trick skier over 10,000 points as well as having been the IWWF Putrajaya World Cup winner in 2008.
She arrived in Malaysia last Friday with her team mates Pierre Ballon and Alexandre Poteau and started her intensive preparations the very next day. The French national team members shall train for 12 days in Putrajaya till the 7th of March before heading to the Moomba Masters event in Melbourne and then to the IWWF World Cup in Perth the following week. The French squad are under the charge of their French national coach Marian Malaquin.
Aaliyah lost no time to ask to train together with Clementine as well as to sit in the boat while Clementine trains.
"I learn so much by sitting in the boat just watching Clem trains," said Aaliyah.
"I listen to what her coach points out to her and I also see how she execute all those tricks that I am presently doing plus all those tricks I shall be doing in the years to come," she added.
Clementine feels strongly that aaliyah has the potential to reach the top of the world as she remarked that, "I do not see any reason why she cannot compete with the best in the world within another 5 years from now if she keeps up her current rate of improvement,"
"Her present standard is right on par with the world's best in her age group and she only needs to keep training as she is doing now and get into more international competitions in Europe and in the USA where the competition is stronger than in Asia."
Aaliyah is scheduled to next compete in the 2012 Asian Beach G ames in Haiyang, China in June as we ll as in the 2012 Asian Australasian Oceanian Championships in Chuncheon in Koreain August. In both these competitions, Aaliyah will compete in the open women category and after that she is expected to make her debut in the IWWF World Junior Championship for U17 competitors end of 2012 in Melbourne.
NOTICE - PUTRAJAYA WATERSKI & WAKEBOARD
Copyright © Malaysian Waterski & Wakeboard Federation. All rights reserved.